Coronavirus - Learning Resources
All children will now have their work packs to complete whilst school is closed. Further work packs will be available once your child has completed their work. If you need any help and advice in completing these, we have now set up class emails so you can contact your child's class teacher. Email addresses are listed below and will be checked by class teachers on a regular basis.
NURSERY: ash@tollbar.doncaster.sch.uk
FOUNDATION: maple@tollbar.doncaster.sch.uk
YEAR 1: sycamore@tollbar.doncaster.sch.uk
YEAR 2: oak@tollbar.doncaster.sch.uk
YEAR 3: cedar@tollbar.doncaster.sch.uk
YEAR 4: elm@tollbar.doncaster.sch.uk
YEAR 5: willow@tollbar.doncaster.sch.uk
YEAR 6: chestnut@tollbar.doncaster.sch.uk
Here is a free e-book to share that explains Covid-19 and social distancing in a child-friendly manner. We hope it will help to discuss and possibly alleviate some of the worries and fears many of our children will be feeling at this challenging time. There is also a pdf version below of another fabulous recent publication made free to all!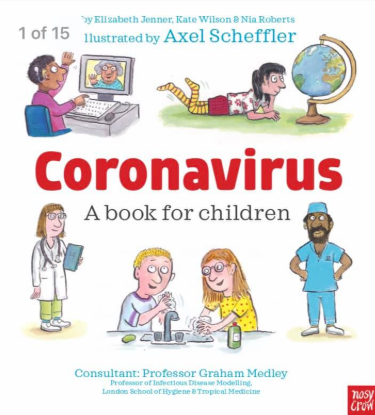 Free art resource using all art skills children need over the appropriate age groups:
Below are some further resources that you may wish to use whilst your child is not at school
TEACH YOUR MONSTER TO READ - used in school to help your children learn to read and currently free to download on your devices due to the current situation regarding coronavirus. Once downloaded this will stay free on your device. Completely free at all times to download on a computer
https://www.teachyourmonstertoread.com - for more information
PHONICS PLAY - Also free to download during this time with no subscription currently needed. Log on details con be found by clicking the link below. Use login details Username:march20 Password: home
Audible is offering a collection of kids audio books for free during the school closures - https://stories.audible.com/start-listen
Cornerstones are offering 45 free to download books aimed at children between 3 and 6 to help parents during this time. More information can be found here - https://cornerstoneseducation.co.uk/news/free-access-to-cornerstones-love-to-read-resources-for-home-learning/
Click-view
Support for Doncaster Schools: Ensuring Continuity of Learning – ClickView
In collaboration with Doncaster Local Authority, ClickView are offering all Doncaster schools free of charge access to the whole ClickView to support with planning and continuity of learning in the event of closure over the next 3 months.
Already trusted by over 4000 schools and colleges including many in Doncaster, ClickView offers over a wide range of high quality teaching and learning video's across many courses, alongside broadcast TV, a schools own video library and formative assessment tools. In the event of closure, ClickView's ready-made teaching and learning content accompanied by teaching resources and interactive quizzes, can significantly support educators with remote teaching, whilst students can independently access and learn. To learn more about how ClickView can help in the event of closure, click here: Clickview
Instilling Inspiration - YouTube Channel
An "Inspire at Home" series of clips to contribute at helping keep all of the young ones motivated with some nice simple activities they can do with their family
The videos related to these brands:
Fit4Kids (fit4kids.co.uk) – Health and Fitness: Theme: "Doing your Fit"
Professor Bubbleworks (professorbubbleworks.co.uk) – Science and STEM: Theme "Science Fun in the home"
Mindful Minis (mindful-minis.co.uk) – Mindfulness and Mental Health – "Mindful Minutes at Home"
BrainBusters (brainbusters.co.uk) – Maths Fun and Puzzles – "Riddle of the Day"
www.century.tech/coronavirus-support
Online learning platform used in schools but now open to families during this time